Lesson 2 - Rule of Thirds
Wow.
So, I am former high school teacher and all my students used to tell me my tests were way too hard. That simply cannot be true, since pretty much everyone who commented got the main issue of the photo. Good job, you all get an "A+". :)
Rule of Thirds
.
..that means if you print your photo for a dart board and can use the main subject as the bull's eye...your composition might be stagnant and dull.
Sometimes cropping the photo can fix this, sometimes not.
Ok, so what to do? My cameras (both my DSLR and my tiny point and shoot) have options to turn the gridlines on. I take full advatntage. This way the camera shows me what the frame looks like divided.
It's kind of like a tic-tac-toe grid
The circles are the "hotspots" and that is where you want to place your subject. Basically whatever part of the photo is the MOST important should go on one of the hotspots. For example, In a portrait, the person's eyes/face would go on a hotspot.
For example: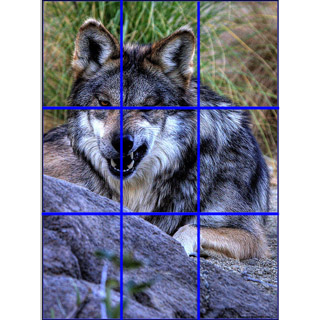 This works with all subjects. That's because those clever ancient Greeks figured out some special ratio, but all that is important (for me, and I suspect for you, too) to know about it, is that the human eye is immediately drawn to these hotspots first, then travels over the rest of the photo.
If your camera doesn't have this option (check the manual to be sure) you can always mentally divide your frame and place your subject accordingly.
Always one to give credit - I stole all these images from Google images. I did a simple images search for "rule of thirds", and all these are on the first page of results.
Oh, on a personal note: at first I felt silly putting my subject that far off to the side. In my camera viewfinder, it looked ridiculous. Plus, getting the focus was tougher since most cameras are programmed to focus on the center of the frame. (Manual focus really helped with that.) However, when I would look at my photos on the computer, it didn't look so silly.
Also, these rules can be broken, sometimes it is far more creative to break the rule than to follow it. That's where your "eye" comes in.
I challenge you, though, for one week put ALL your subjects on a hotspot...and get a feel for it, see what it does for your photography.
Enjoy!